Download our Step-by-Step Guide for Revenue from Contracts with Customers!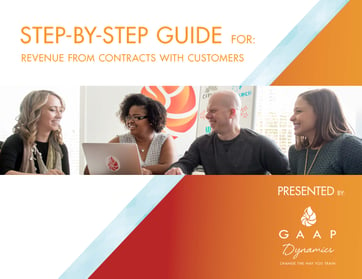 Significant changes are coming to the way entities around the world recognize and report revenue. The new 5-step model within ASC 606 and IFRS 15, Revenue from Contracts with Customers, is expected to impact nearly all companies in a variety of industries. With the effective date just around the corner, the time to act is now!
Don't stress. We're here to help! Our guide walks you through each step of the new model, providing you with the following:
High-level overview of the requirements
Microlearning training modules in various formats
Links to examples that highlight significant changes from existing requirements
For best results, we recommend using the must up-to-date version of Google Chrome or Internet Explorer. The latest versions are Chrome 62 and Internet Explorer 11.
If you experience difficulties accessing this file, please contact LaTarshia Wooten at lwooten@gaapdynamics.com.